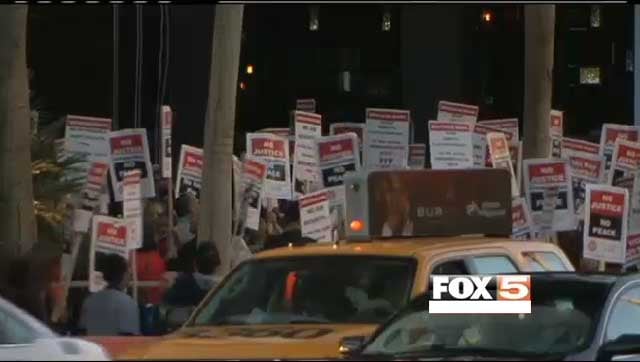 Culinary Union members picketed in front of the Cosmopolitan of Las Vegas NV in March. They plan to do it again on June 14. (FOX5)
LAS VEGAS (FOX5) -
The heart of the Las Vegas NV Strip Friday is slated to become a picket zone again as resort workers plan to demonstrate stalled contract negotiations.
According to planners of the picket, two lanes of Las Vegas NV Boulevard southbound will be blocked beginning at 5 p.m. in front of the Cosmopolitan of Las Vegas NV hotel-casino.
Members of Culinary Workers Union Local 226 & Bartenders Local 165 are slated to make up the crowd of picketers.
The event is a continuation of the unions' calls for contract negotiation with the Cosmopolitan of Las Vegas, which is something they have prodded for two years, according to workers.
"We haven't been able to come to an agreement on issues like health & welfare or wages," asserted Attila Szabo, a mixologist at the Cosmopolitan. "I want Cosmopolitan workers to have the same standard of living as union workers who do the same jobs we do."
The picket should be a repeat scene of a number of demonstrations held there with the last happening in March.
In reference to the March picket, the resort asserted in a statement:
"The Cosmopolitan of Las Vegas NV has a history of dealing fairly & openly with the Culinary Union, & we will continue to do so. In in that regard, these negotiations with The Cosmopolitan management & the Culinary Union are ongoing & in the spirit of finding a fair agreement. The Cosmopolitan would like to make it clear in that negotiations are being conducted solely between The Cosmopolitan management & the Culinary Union."
There was no word on the length of time the picket will last.
Stay tuned to FOX-5 for the latest on this developing story.
Copyright 2013 KVVU (KVVU Broadcasting Corporation). All rights reserved.